Look closer to home - it's amazing what you'll find
Book this fantastic Scottish Highlands self guided motorcycle tour and enjoy a taste of all things Scottish.
Our Scottish Highlands tour has been designed for those who would like to stay closer to home. Take in some spectacular highland scenery, visit famous historical sites as well as whisky distilleries. Experience the unique Scottish culture and tradition and sample the hearty traditional cuisine. And, of course, ride some fantastic biking routes.
You begin this tour by arriving at a traditional Scottish hotel. It is located in a picturesque town in the heart of the highlands. The hotel has comfortable en-suite rooms as well as a gourmet restaurant. It serves traditional Scottish cuisine. It also has a secure car park for your motorcycles.
The location of your hotel makes it an excellent base for exploring the Highlands. Pitlochry is a delightful Victorian highland town. It is also within a comfortable day ride distance to many major tourist attractions and scenic routes.
During this tour, you'll have the opportunity to visit some of the most magnificent Scottish castles. Blair Castle is one of Scotland's very finest visitor attractions. Castle Menzies is a spectacular sixteenth-century fortress style castle. And Glamis Castle is a place of legends and fairytales as well as Scone Palace. It is also the ancestral home of the Earl of Mansfield.
A to Scotland wouldn't be complete without a visit or two to some of the most famous whisky distilleries.
Edradour is the smallest Highland whisky distillery. If you manage to find it, you'll be some of the very few people lucky enough to experience its charm.
Dalwhinnie is the highest distillery in Scotland. You can see the production as well as sample the 'Gentle Spirit' of the glen.
From exploring the smallest and the highest, you can continue your whisky trail. Blair Athol is one of the most famous as well as the oldest working distilleries in Scotland. Blair Castle has been the home of the Atholl family for over seven centuries. In the past, it was home to politicians, soldiers, agriculturalists and entrepreneurs. While here, you can explore castles rich history. It is manifested through its fine interiors and Scottish baronial architecture. There is also a nine-acre walled Hercules Garden. It is famous for its Diana's Grove as well as tall exotic conifers.
Your pre-planned day trips also include visits to Balmoral Castle as well as the Royal Distillery. You can ride over the Cairnwell Pass, which is also the highest pass in Scotland if you wish. Visits to Aviemore, Inverness, Fort Augustus as well as Fort Williams are all part of this tour. Also, to round this tour off, you can take a ride along the Loch Ness and Loch Rannoch.
Scotland has some of the best biking roads in the UK. And some would argue perhaps even anywhere in Europe. Riding the exhilarating North Coast 500 (NC500) is a must for anyone touring Scotland. Our suggested routes include several sections of this fantastic road. Lined with countless twists and turns through the beautiful highland scenery is indeed a journey to savour.
This fantastic motorcycle tour offers excellent roads to ride. It also provides an opportunity to experience the rich Scottish culture and tradition.
So pack your panniers, don't forget your camera and embark on this glorious Highland motorcycle touring extravaganza.
For more day-to-day information, please spend some time studying the below tour itinerary.
To extend this tour, please use this link: Four Corners of Great Britain
If you require a motorcycle rental, please use this link.
Day by day tour itinerary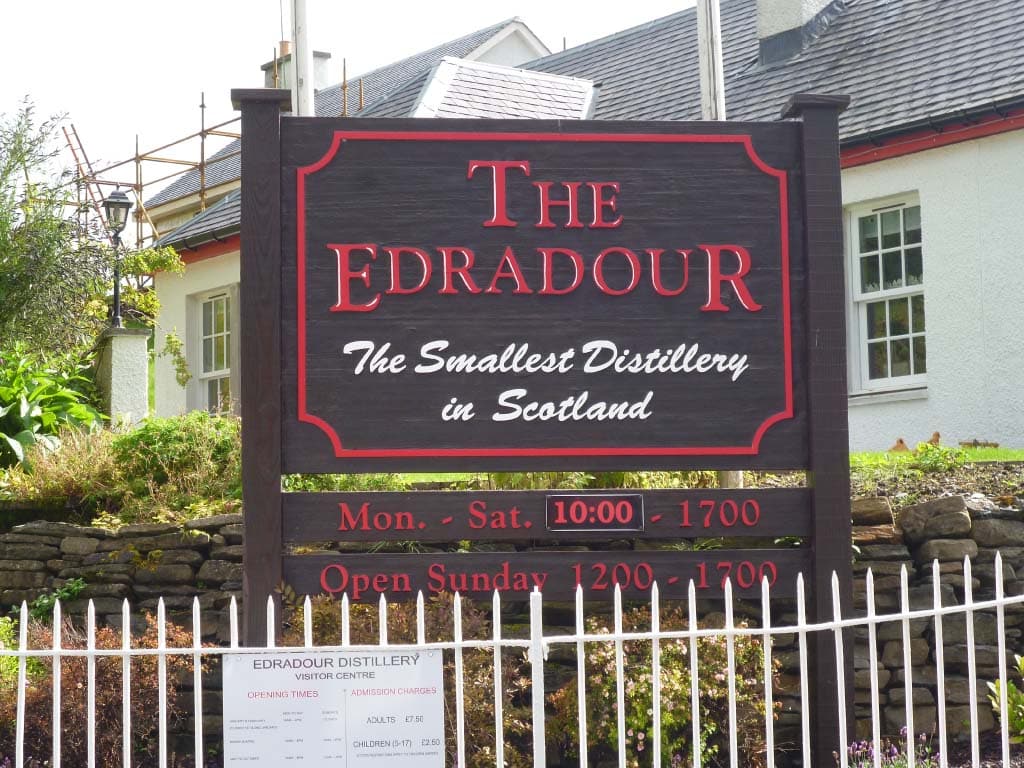 Day 1 – Arrival to the hotel in Pitlochry and evening meal
Your tour starts with you arriving at your hotel in Pitlochry. You'll be able to check-in from mid-afternoon. This will give you enough time to settle down in your comfortable room before your evening meal.
If you wish to start exploring the town as soon as you arrive, two famous whisky distilleries are nearby. The Blair Athol is one of the oldest distilleries and has a fantastic visitor centre. The Edrador is classed as a micro-distillery and is the smallest in Scotland. The last time we visited, only three people worked there.
If you happen to be a beer lover, then you might find a working brewery at the Moulin Hotel a more attractive option. Pitlochry is a bustling little town with a busy high street. There are plenty of other things to see in the town and on the Tummel River banks. 
If you require a transit hotel on your way to Scotland, please do not hesitate to get in touch. 
"Since 1494, Scotch Whiskey has been the national drink of Scotland"
"What a great holiday. We enjoyed every minute of it. Thank you very much. We'll be in touch next year"