Dolomites, Lake Garda and Tuscany
The best of Italy and more... much, much more
Our Dolomites, Lake Garda and Tuscany guided motorcycle tour includes the best of Italy.
Just about everything you might expect from this journey is depicted nicely in the three colours of the Italian flag. The 'il Tricolore' represents the green – like the emerald green waters of Lake Garda. Only the white peaks of the Dolomites are white enough to describe the colour of white. And finally, there are only three words that can represent the colour of passion – red… Ducati, Ferrari and Tuscany.
Our journey begins with a relaxing ride along the winding back roads of the French Ardennes. From one beautiful biking region to the next, we'll work our way towards the enjoyable passes of the Vosges Mountains. Crossing over to Germany, we'll take a brief spin along the fabulous B500. And just before arriving in Austria, we'll take in the first hazy views of the Bavarian Alps. Riding over the magnificent Timmelsjoch and the twisty Jaufen pass will signal our arrival to the Dolomites.
Talking about the ultimate forever young – Peter Pan attitude towards life, there is no better example than our next hostess. The landlady in our hotel in Corvara is the most glamorous grandmother we ever met. And she also has the restaurant master chef with the culinary skills to match her glamour. Needless to say, for the next two nights, we'll be well looked after.
Three main factors make biking in the Dolomites so alluring. They are breathtaking scenery, welcoming people and, of course, exhilarating motorcycling routes. While here, we'll have the opportunity to ride some of the most spectacular mountain passes. These include the famous Sella Ronda as well as Valparola. Also Giau, Croce and Passo di Costalunga are great rides too.
Next, we say farewell to our charming hostess and wind our way to the other side of the beautiful Dolomites. Lake Garda, our next port of call, is renowned for its outstanding natural beauty and art, as well as a passion for food. It is also one of the most popular biking destinations that fervently advocate the motorcycling la Bella Vita. Our free day here comes with a few options. We can go for a ride around several other mountain lakes. Another option is to visit the world-famous Sirmione's thermal pools as well as explore some of the many Roman ruins.
Furthermore, we might opt to go on a ferry-hop ride between lakeside villages. A train journey to Verona as well as the lagoon city of Venice is highly recommended too. Or on the other hand, we might do what we usually do while here. Slip into our flip flops and, in true Italian fashion, immerse in the hustle and bustle of Lakeland life.
We'll conclude our trilogy of Italian biking hot spots by moving on to Tuscany. A four-star family-run hotel located in tranquil parkland will be our base for the next three nights. Besides elegantly furnished villa-style rooms, it also features an outdoor swimming pool. The in house restaurant master chef was specially trained by his own grandma. As a result, he serves tasty fare of local Tuscan dishes.
With various options of day trips, we can visit Florence, Siena and Pisa as well as San Gimignano and Luca. We can also widen our horizons and extend our travels to stunning Cinque Terre and legendary Ducati or Ferrari factory. In addition to the factory visits, there is also a fantastic ride over the superb Futa Pass.
On our way back to the UK, we'll spend the last three nights in Lugano in Switzerland, Alsace, and France's Champagne region. Our passage includes crossing the Apuan Mountains volcanic plateaus and riding over the challenging San Gothard pass.
Often talking about some other tours, it feels like telling the Pinocchio story. Every time we repeat the story, things get longer, higher, more significant, and of course, faster… much faster. However, unlike the Pinocchio story, on this tour, our noses never get any longer. Because on this tour, there is no need to exaggerate. As far as we are concerned, motorcycle touring in Italy is just much more enjoyable than anywhere else.
For more day-to-day information, please spend some time studying the below tour itinerary.
For an alternative tour, please use this link: Bosnia, Croatia and Slovenia
If you require a motorcycle rental, please use this link.
France, Germany, Austria, Italy, Switzerland
Day by day tour itinerary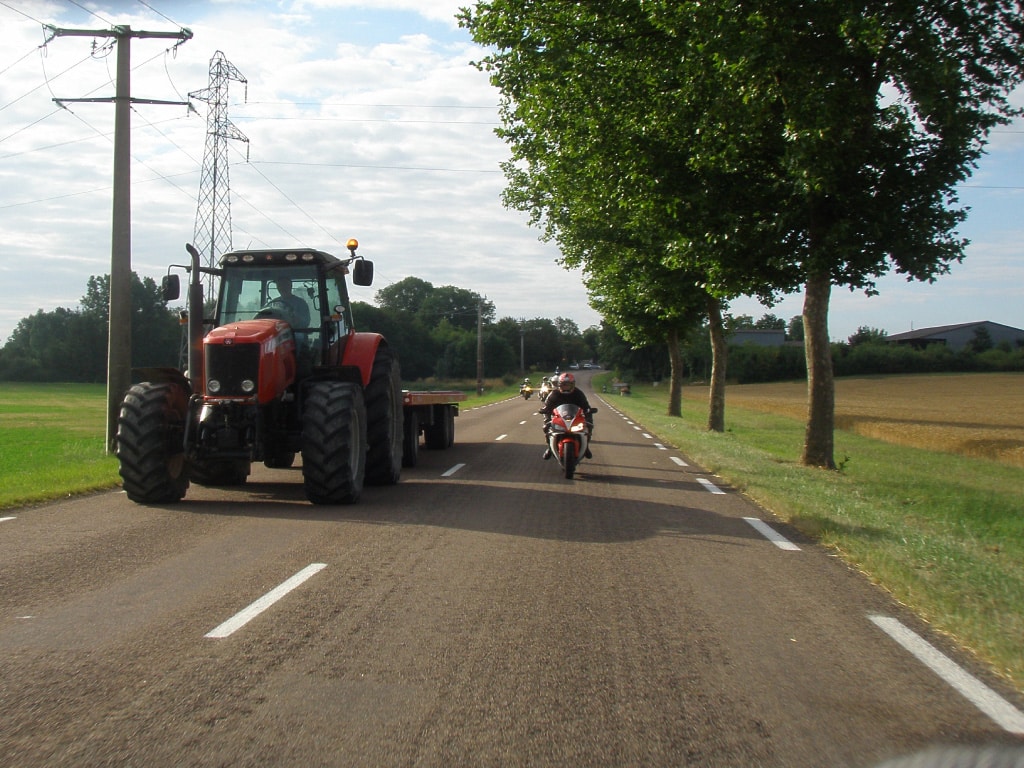 Day 1 – Folkestone to Ardennes Region (France) (Approx. 200 miles)
We'll start this tour with the morning Eurotunnel crossing to Calais. Then 100 or so miles on the motorway through France will get us quickly to Belgium. As we head towards the Ardennes Region, we'll cross France and Belgium's borders on several occasions.
Our route will take us through Philippeville, Bouillon and Givet. We can stop at any or all of these towns for lunch or a drink. We usually stop at Givet for a bite to eat and a drink. The town is on the banks of the river Meuse on the French side, not far from the Belgian border. With its bridge over the river, pretty house fronts, hilltop citadel, and fantastic roads all around, it is a popular biking destination. There are several cafes and restaurants by the river, and the parking isn't a problem. 
The ride is not that long and demanding, so we should be in our converted fort hotel by mid-afternoon.
"It's no secret that baguettes are popular in France. France operates an emergency boulangerie rota to make sure that everyone has access to fresh bread, even during bank holidays"
"Thank you ever so much for another great holiday. See you next year."
UK, 2015, 2016, 2017, 2019
Dolomites, Lake Garda and Tuscany