Ardennes, Moselle and Champagne
An easy escape to the lands close to home
This is our back to basics guided motorcycle tour to the beautiful Ardennes, Moselle and Champagne regions. 
Speaking to many clients and other fellow bikers over the years, we often came to an unusual conclusion. Despite being bikers, most of us slightly lost that common touch with biking. With this fantastic tour, we'd like to put the wrongs right, so to speak. We want to get us back to the good old biking basics of camaraderie, riding together as well as talking mainly nonsense. If you are this sort of person, you are our sort of person, and you'll fit right in. Therefore, we'll welcome you to join us on this relaxing biking merry go around the three beautiful biking regions.
The Ardennes region of Belgium is only a short hop under the water with Eurotunnel. The perfect biking roads in Wallonia offer something to every one of us. They range from relaxing routes that'll allow us to ride and enjoy the scenery to more demanding as well as challenging twisties. But even more importantly, the car drivers are considerate and courteous towards motorcyclists. 
The Belgian Ardennes is one of the European areas that still remain mostly unspoiled. Nature is rich in flora and fauna with vast forests, green hills as well as fast-flowing rivers. We'll ride through picturesque villages and historic towns nestling in the valleys where tradition and folklore still live on. Amongst the greenery lies the silent witnesses of the past of the Ardennes. These include the magnificent medieval castles, imposing-looking forts, as well as citadels with cobbled streets and narrow alleys. Our flexible itinerary will also afford us time to visit some of the WW2 landmarks as well as museums. Each evening, we'll rev up our appetites with culinary delights prepared by the Masterchef in our hotel restaurant in Bastogne.
The Moselle valley, or Mosel in German, is the area of timeless natural beauty that leaves a lasting impression. With its Roman heritage, traditional Germanic cuisine, and fantastic roads, there is plenty to see and ride here. We'll be staying in Traben-Trarbach, which is often referred to as the jewel of Moselle Valley. Standing on both banks of the river in its hay days, the town was a world-renowned wine trading centre. We can spend hours exploring the city, marvelling its architecture or sitting by the river watching the boats pass by.
If we wish to discover more of the valley, we can do it on the road as well as water. We can take a ride to Eltz Castle, Cochem, Koblenz, Bernkastel-Kues, and any other riverside town. They are all beautiful as well as unique in their own way. Cochem is one of the most popular towns for the bikers in the Moselle Valley. Here we can visit the Cochem Imperial Castle and go for a little walkabout as well as have lunch. Alternatively, we can book a riverboat trip that sails all the way to Switzerland.
For centuries our next destination has been producing some of the world's best champagne. The Champagne Region of France is a beautiful area that is a magnet for visitors. Fortunately, it has become popular with motorcyclists as well.
There is no denying that champagne has long been a choice of drink for the wealthy and powerful. Often it isn't easy to comprehend the attraction of this bubbly drink truly. Perhaps the best way to truly appreciate it is to visit some of the region's champagne houses. This tour will present us with an excellent opportunity to visit our favourite champagne-producing house.
At the magnificent Château de Bligny, we'll be able to learn more about the champagne tradition in a unique and prestigious setting. We'll be given a guided tour of the cellars as well as a champagne presentation and at the end tasting session. For two nights we'll be staying in Troyes, one of the most beautiful towns in the region. From here, we'll have easy access to some of the most enjoyable biking routes of this stunning region. We could easily spend the whole day winding through the chalky hills and lush vineyards and never get bored.
The end of this tour is likely to follow a similar conclusion as many other trips. You'll remember us as 'the couple on a red Fazer with strange accents and unpronounceable names'. And we will remember you too. Perhaps as 'a nice couple on a BMW'. You might be re-christened to 'a toll bloke on a Fireblade'. Or you may become' a lady rider from up North'. But regardless of a name, we all go down in RideWithUs archives. One thing is certain; we'll have a great time riding together. Back to the good old biking basics!
For more day-to-day information, please spend some time studying the below tour itinerary.
For an alternative tour, please use this link: Normandy, Loire and Champagne
If you require a motorcycle rental, please use this link.
12 - 18 September 2021 - FINGERS CROSSED
Day by day tour itinerary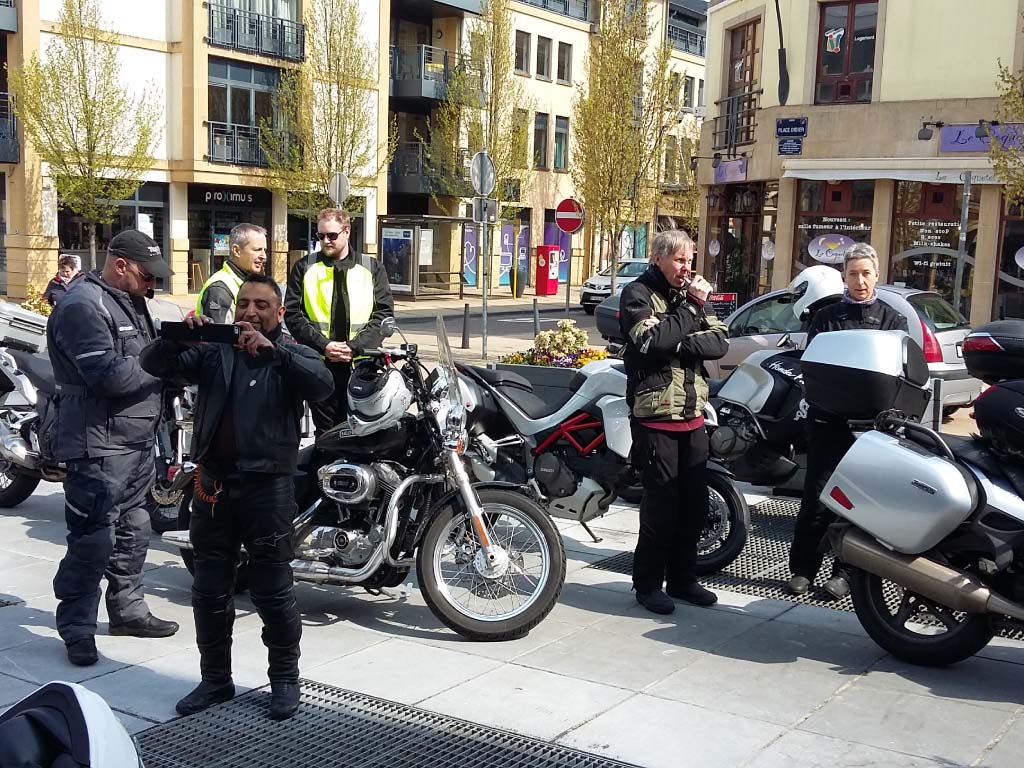 Day 1 – Folkestone to Bastogne (Belgium) (Approx. 220 miles)
Following an earlyish morning Eurotunnel crossing, we'll start our journey towards our first destination. Bastogne is a historic town in the Belgian Ardennes and less than ten miles from the Luxembourg border. 
To make quicker progress, the initial part of our ride will be on motorways. This will allow us to enjoy the afternoon by riding some fabulous country highways and byways. If you wish, you can start exploring the town as soon as we settle down in our comfortable hotel. It is located only a short distance from the town centre. You'll find it easily; just look for a town square with a little tank parked next to the traffic lights.
There are also quite a few cafes, bars, and restaurants perfect for sitting down and people-watch. Bastogne played an essential role during WW2 and has several museums as well as memorial centres worth visiting. So, early arrival is recommended if possible.
"The Belgian national symbol is Manneken Pis – a peeing boy"
"Thank you so much for another wonderful tour. The routes were beautifully put together with some stunning scenery. All hotels were great and very comfortable with excellent food. Your tour photos say it all. See you again soon."
Shropshire, UK, 2011, 2014, 2016, 2018
Ardennes, Moselle and Champagne