Italian Dolomites Guided Motorcycle Tour
Available: 27th June - 6th July 2015
This tour has it all – excellent biking roads, mountains of outstanding natural beauty, great hotels and fantastic food.
With their distinctive ragged limestone peaks, the Dolomites are probably the most beautiful part of the Italian Alps.
This unspoiled region of lakes, vast forests, Alpine pastures and spectacular mountain passes presents itself as one of the most attractive destinations for us motorcyclists.
We start our journey from Folkestone and ride through rural Belgium to our first overnight destination in Luxembourg.
During the next two days we continue through Germany and Austria with an overnight stop in each country.
The first night will be spent in the Black Forest where we stay in a delightful three star family run hotel. Here our host and masterchef usually treats us to a delicious four course traditional German supper.
Upon our arrival in Austria we'll receive very similar hospitality the only differences being that the hotel star-rating and the number of evening meal courses will both increase by one.
Our route from Austria will take us over the Timmelsjoch Pass, one of the "must do" passes on every biker's list.
We'll be staying in a small enchanting Alpine resort surrounded by fir trees and by snow-covered peaks that turn a spectacular pink at sunset.
Our 4 star hotel has an indoor swimming pool, wellness centre, underground parking and an excellent restaurant with a great selection of traditional regional and national dishes.
From here we'll be able to explore the region by visiting one of the most glamorous Italian ski resorts – Cortina d'Ampezzo, and the historic towns of Bolzano and Bruneck.
Weather permitting we'll have an opportunity to ride some of the most spectacular mountain passes in the Italian Alps including Passo di Gardena, Passo di Sella, Passo Pordoi, Passo di Compolongo, Passo di Castalunga and of course Passo dello Stelvio.
The return leg of our journey will take us through St Moritz in Switzerland, the Black Forest of Germany and Luxembourg.
Ride through dramatic mountain scenery and unspoilt country side and stay in truly luxurious surroundings.

Day
Event
Approx daily mileage
Day 1
Early morning meeting – car park in front of the Euro Tunnel terminal building
Combination of motorway and non-motorway roads towards Luxembourg
250
Day 2
09.00am start towards the Black Forest region of Germany
Combination of motorway and non motorway roads
245
Day 3
09.00am start towards Tirol region of Austria
Combination of motorway and non motorway roads
205
Day 4
09.00am start towards Italian Dolomites
Combination of motorway and non motorway roads
130
Day 5
Free day
Optional day ride around Dolomites famous mountain passes
100-150
Day 6
Free day in Dolomites
Day 7
09.00am start towards the Swiss Alps
Combination of motorway and non motorway roads
160
Day 8
09.00am start towards the Black Forest region of Germany
Combination of motorway and non motorway roads
195
Day 9
09.00am start towards Luxembourg
Combination of motorway and non motorway roads
250
Day 10
09.00am start towards Calais
17.00 crossing to Folkestone
250
| Price | |
| --- | --- |
| Rider and pillion | £1195 pp |
| Solo rider sharing twin room | £1265 pp |
| Solo rider single room | £1445 |
Price Includes:
Return Eurotunnel crossing
9 nights b&b accommodation
9 evening meals
Route pack for each day
Turn-by-turn guiding
Price Excludes:
Hotel parking
Petrol
Toll charges (vignette)
Admission charges
Meals other than those specified
We have chosen to travel with Eurotunnel – Folkestone to Calais in 35 minutes – less time travelling, more time for riding and exploring.
Tour Highlights
3*** and 4**** hotels with leisure facilities and breathtaking views
Timmelsjoch Pass
Ski resort of Cortina d'Ampezzo
Ski resort of Arabba
Passo di Gardena
Passo di Sella, Passo Pardoi
Passo di Compolongo
Passo di Castalunga
Passo dello Stelvio
Historic town of Bruneck
Pre-Trip Checklist
Personal Checklist
Waterproofs.
Spare set of gloves.
Enough clothes to last you for a trip.
Some swimming gear.
Some casual clothes.
Some local currency.
A major credit card recommended.
Mini first aid kit (in some countries required by law).
Some basic pain killers and prescription drugs.
Note with your driving licence of any allergies in Latin.
Pack everything into plastic bags before putting it into the panniers.
Legal Requirements
Valid passport.
Valid riding licence.
European breakdown cover recommended.
Travel insurance.
Green card for European travel.
Check if your bike insurance covers (Green Card) all the countries will be passing through (e.g. Eastern Europe).
Copy of bike insurance policy.
Registration document.
E111 obtained from the Post Office (this guarantees you equivalent NHS treatment in EC countries only).
Bike Checklist
Make sure the tyres on your bike are going to last the duration of a trip.
Make sure that the bike is serviced for the duration of a trip.
Puncture repair kit recommended.
A good bike chain is also highly recommended.
Chain lubricant.
Spare bike keys.
Spare battery for the alarm fob (if you have an alarm).
Spare bulbs (in some countries required by law).
Spare fuses (in some countries required by law).
Spare spark plugs (in some countries required by law).
Some tools.
Some extra bike security device (padlock and chain, disc lock).
Torch.
Other Tours you make like
Austrian Alps Guided Tour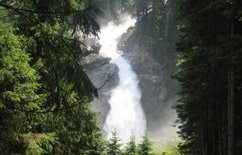 Swiss Alps Tour